On Sale
Best Sellers
About The Keyboard Piano shop
The Keyboard Piano shop is run by Martin Carline. Martin has been playing the piano for over 25 years, and currently spends his time teaching, shooting videos for tutorials, and reviewing pianos and keyboards.
Using Martin's expert knowledge and experience our shop is dedicated to providing you with professional advice on choosing digital pianos, keyboards and accessories. Martin reviews a selection of recommended pianos and keyboards which can then be ordered through our preferred third-party supplier at excellent prices with a range of delivery options.
Our reviews provide detailed information about numerous quality pianos and keyboards, including – sound, touch and feel, price, features and much more. No matter what age and ability you are, Martin's reviews will help you decide what's right for you.
Through Martin's many years of playing on hundreds of pianos and keyboards, his reviews are able to provide you with an honest appraisal to ensure you are making the right choice.
It doesn't matter whether you are a complete beginner looking to buy their very first piano or keyboard, or whether you have been playing for many years and are looking for an upgrade – Martin's reviews cover all aspects to help you decide.
Nowadays digital pianos are more popular than acoustic, and provide a much better sound for the money you spend. That's why many of the reviews cover digital pianos and keyboards, as well as numerous accessories like stools and stands, headphones etc.
The reviews and instruments on offer aim to provide you with great variety and choice to ensure you can consider all options available to you. From starter keyboards to high end quality digital pianos, we've got everything covered.
Some digital pianos and keyboards don't come with the required stand or stool, which can make for a very frustrating first day with your new instrument. That's why we've also provided lots of accessories for you to choose from including stools/benches, stands, headphones and much more.
Our keyboard piano shop also provides helpful advice for parents looking to buy a keyboard or digital piano for their child. Whether you are looking to buy a budget keyboard to see if your child likes playing, or whether you need to make sure it will last for a few years before you need to upgrade, Martin has provided the information you need.
From the Blog: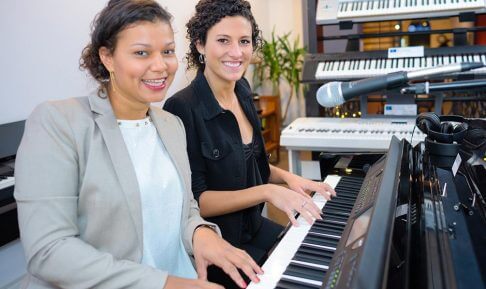 If you're in the market for a digital piano but have very little knowledge on what to buy and why, then we've got you covered. With such a huge range…